About Dorking Concertgoers
Enquiries regarding artists and programmes should be made to Susan Bixley: susan.bixley@ntlworld.com
The concert by Oliver Wass & Henry Roberts on 6 October 2018 is part of the MVDC Arts Alive Festival.
We are grateful to all our sponsors throughout the season:
Humphrey Richardson Taylor Charitable Trust
The Countess of Munster Musical Trust
Making Music's Philip & Dorothy Green Young Artists Scheme
Sir Brian & Lady Unwin
Chris & Sue Pratt
Anne Usher

The Society is a member of Making Music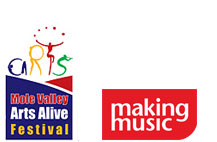 Our aim is to present classical music of the highest professional quality for the residents of Mole Valley in some high-quality venues. Our president is the famous countertenor James Bowman.
Over the years of its existence, the Society has promoted concerts by many famous musicians and orchestras including pianists Angela Hewitt and Nikolai Demidenko; clarinettist Emma Johnson; the Endellion, Brodsky and Medici Quartets; and the London Orchestras. Our present season maintains this high standard. To ensure the continuance of professional classical music in Dorking why not become a MEMBER and a FRIEND or SPONSOR of the Society. Please see 'Join'.
President James Bowman CBE
Chairman Susan Bixley
Hon Membership & Ticket Secretary
South Lodge, South Holmwood, Surrey RH5 4LZ
Telephone 01306 740619
E-mail pam.chiverton@btinternet.com