Jubilee String Quartet
Jubilee String Quartet
Sadly, due to the ongoing restrictions, this concert is postponed to the 2021/22 Season.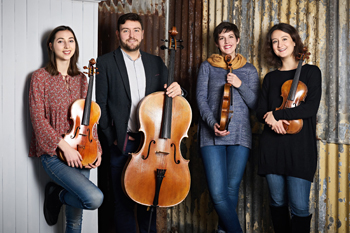 Jubilee String Quartet
Haydn String Quartet in F minor, Op.20 No.5
Schubert String Quartet No.10 in E flat major, D87
Mendelssohn String Quartet No.2 in A minor, Op.13
Tereza Privratska Violin I
Julia Loucks Violin II
Lorena Cantó Woltèche Viola
Toby White Cello
Haydn and Schubert feature once again in this, the last of the Jubilee Quartet's three concerts, this time with music by Mendelssohn. Haydn's string quartet in F minor comes from his set op.20, in which, after earlier experiments, he reaches maturity and displays his complete mastery of the quartet form.
The Schubert quartet is a youthful work, written when the composer was a boy of just 16, and intended for performance within the family circle. Mendelssohn's quartet in A minor is also an early work, written when he was 18. It is a dramatic piece, full of a young man's energy and passion.