Jubilee String Quartet
Jubilee String Quartet
Sadly, due to the ongoing restrictions, this concert is postponed to the 2021/22 Season.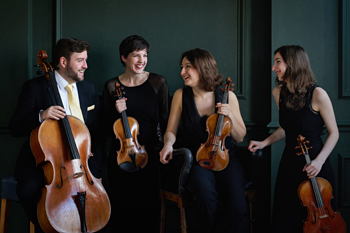 Jubilee String Quartet
Haydn String Quartet in G major, Op.77 No.1
Schubert String Quartet No.12 in C minor, D703 Quartettsatz
Beethoven String Quartet No.15 in A minor, Op.132
Tereza Privratska Violin I
Julia Loucks Violin II
Lorena Cantó Woltèche Viola
Toby White Cello
The Jubilee Quartet's second concert begins with music by Haydn, the first of his two string quartets op.77. These were the last quartets that Haydn completed, as he neared the end of his life, and this G major quartet is a fine work, noted for its solemn and majestic slow movement.
Schubert's Quartettsatz is one of his several unfinished compositions. The concert closes with one of Beethoven's late quartets. Written after the composer had recovered from a period of illness, it is an intense and inward-looking work whose meditative slow movement is entitled 'a hymn of thanksgiving from a convalescent to the Almighty'.