Jubilee String Quartet
Jubilee String Quartet
String Quartet Series I
Sunday 14 November 2021
3.00pm
Martineau Hall at Dorking Halls
Tickets £21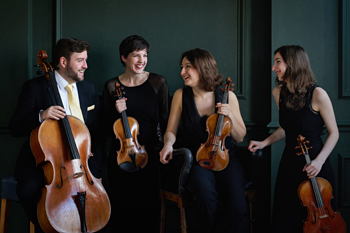 Haydn String Quartet in G major, Op.77 No.1
Schubert String Quartet No.12 in C minor, D703 Quartettsatz
Beethoven String Quartet No.15 in A minor, Op.132
Tereza Privratska Violin I
Julia Loucks Violin II
Lorena Cantó Woltèche Viola
Toby White Cello
This concert is in memory of Jill Coton
With members hailing from England, Canada, Spain and the Czech Republic, the Jubilee Quartet is a truly international ensemble. Each member brings his or her own cultural identity to the group, which was formed in 2006 and is based in London.
Their performances have taken them around Europe, including appearances at many chamber music festivals, and they also work with young students at the Purcell School in Hertfordshire.
The concert opens with one of the last quartets that Haydn completed and the G major quartet is noted for its solemn and majestic slow movement. Schubert's Quartettsatz is one of his several unfinished compositions.
The concert closes with one of Beethoven's late quartets. Written after the composer had recovered from a period of illness, it is an intense and inward-looking work whose meditative slow movement is entitled 'a hymn of thanksgiving from a convalescent to the Almighty'.