Jubilee String Quartet
Sunday 7 February 2021: 3.00pm
Jubilee String Quartet
Works by Haydn, Mozart & Schubert
Martineau Hall at the Dorking Halls
Tickets £21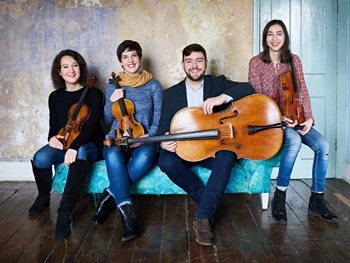 Jubilee String Quartet
Haydn String Quartet in G major, Op.64 No.4
Mozart String Quartet No.22 in B flat major, K589
Schubert String Quartet No.15 in G major, D887
Tereza Privratska Violin I
Julia Loucks Violin II
Lorena Cantó Woltèche Viola
Toby White Cello
With members hailing from England, Canada, Spain and the Czech Republic, the Jubilee Quartet is a truly international ensemble. Each member brings his or her own cultural identity to the group, which was formed in 2006 and is based in London.
Their performances have taken them around Europe, including appearances at many chamber music festivals, and they also work with young students at the Purcell School in Hertfordshire.
Their three programmes focus on the classical repertoire, with quartets by Haydn and Schubert in each concert. This first concert also includes one of Mozart's three Prussian quartets, written towards the end of his short life.