Fiona Harrison
Fiona Harrison
Sadly, due to the ongoing restrictions, this concert is postponed to a future season.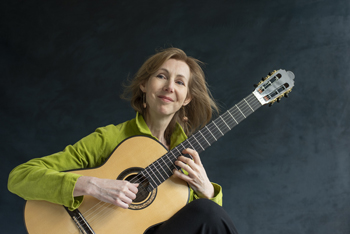 Fiona Harrison
Guitar
A short set from the renaissance:
Dowland My Lady Hunsdon's Puffe; A Toy (The Shoemaker's Wife)
Francis Cutting Lord Willoughby's Welcome Home
Phillip Houghton Fantasia 'As a Jade Unicorn Might in the Rain'
Dowland The Frog Galliard
Giuliani Grande Ouverture, Op.61
Villa-Lobos Prelude
Joaquim Malats Serenata Española Impresiones de España: No.2
Gary Ryan Hot Club Français
Richard Charlton A Short Walk in a Rainforest
Albéniz Mallorca (Barcarola Op.202)
Albéniz Capricho Catalán (España, Op.165, No.5)
Carlo Domeniconi Koyunbaba Suite for Guitar, Op.19
Dorking-based Fiona Harrison has performed solo recitals throughout the country and been featured live on BBC radio. Fiona has frequently been described as an inspiring music teacher.
She worked alongside many wonderful, insightful musicians as part of the ABRSM professional development team for many years and has been a featured guest soloist and teacher at various guitar festivals, including the International Summer School at West Dean. Fiona graduated from the Royal College of Music and received a Masters degree from Yale University, USA. Her teachers included Charles Ramirez, Carlos Bonell and Benjamin Verdery. Her recital includes works by Dowland, Albéniz, Villa-Lobos and Giuliani.